Home
SOLO/DUO/BAND COUNTRY MUSIC GUITARIST SINGER:  IDEAL FOR BOTH LINE DANCE OR COUNTRY MUSIC CLUBS, COUNTRY THEME NIGHTS ETC… ALSO BACKS COMEDY STARS!
I was given my first toy guitar at the age of 2, as it was clear to my whole family I was obsessed with music.. It was the sixties and as far as I was concerned I was the 5th Beatle.. Guitar based music has been my passion since then. I've been in bands since I was 16 years old and  starting out I was – of course – going to be the perfect hybrid of Paul Weller from The Jam and Lee Brilleaux and Wilko Johnson out of Dr.Feelgood.  I soon discovered the music of American "cowpunk" bands The Long Ryders and Jason and The Scorchers and from there it was a short step to appreciating real country music. The New Country artists emerging in the 80's and 90's were a massive influence which eventually meant I headed in a more traditional country direction and I have been a professional musician since 1989 specializing in country music since then.
Although I had previously been in a few local rock and my own country rock band, my first experience as a member of UK country band was in Greta and the Stray Shots (1985/1995),  after 10 years I joined The Long Ryders' (see above) frontman Sid Griffin's new country rock band The Coal Porters (1995/1999) touring all over Britain and Europe, releasing albums and DVDs. At the same time, on off days, I was a member of the house band at The Sheraton Hotel, Heathrow Airport alongside UK country singer Nadine Somers. This expanded out to returning to the UK country scene in the Nadine Somers Band (1998/present) which derived other acts Vegas (a duo with NSB member Bob Keeley 2001/2009), Lass Vegas (another duo with Nadine Somers taking over from Bob –2010/2012) and Lass Vegas with Marie Saunders (2012/2019). I now work as a Solo act on the country music circuit, with Nadine in our duo, the unimaginatively named Nadine & Rob, and occasional Nadine Somers Band gigs.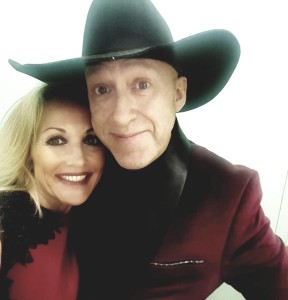 Nadine Somers & Rob Childs Duo
Throughout the time from 2001 to the present day I have been working in all of US Comedian Rich Hall's musical projects around the world. This started as a one off appearance on a TV special playing pedal steel guitarist character Myron T Buttram for Rich's redneck alter ego Otis Lee Crenshaw, and he hasn't been able to shake me off of his coat tails yet. Rich's latest musical project is Rich Hall's Hoedown Deluxe, a stand up and musical comedy show featuring a large band of anything up to 7 musicians. Guest musicians and singers in the Hoedown have included Bill Bailey, Jason Manford, Phill Jupitus, Margaret Cho, Bob Downe, Barry Cryer, Nick Pynn, Kirsty Newton, Kate Daisy Grant, Marie Saunders, Nadine Somers, Christian Reilly & Guy Pratt (Pink Floyd). I also accompany Rich on guitar and comedy sidekicking in his solo shows.